Breast enlargement is one of the TOP treatment at our clinic
Our surgeon Dr. Martin Skála has gained the trust of patients from all over the world. Clients are most grateful for the quality and care Mediczech provides, as well how unique they feel with us. Make sure you read the story of Mrs. Petra and other references from clients who undertook breast augmentation with us. And also read our patients most frequent questions that we put together for you with our surgeons.
What could happen if I do not strictly follow the postoperative instructions?
Keep in mind that a rest period is very important. Failure to do so may prolong the healing time, or the result of the procedure you expect may not occur. By following the postoperative regimen, you also avoid unpleasant complications. For example, we recommend massaging scars so they disappear as soon as possible.

Can I sleep after the surgery on my stomach or on my side?
We recommend sleeping on your back with your head raised for several weeks after your surgery.
What's the purpose of the elastic band worn over a bra?
It presses your breasts down and generally is suitable for situations where you are forced to use and lift your arms. It increases the effectiveness of the compression bra and helps to fix the implants where they were placed during the surgery.
Can I remove this elastic band for at least a few hours during the day?
We recommend removing it only for personal hygiene.
How long will I have drains?
Drains will be taken out by your doctor on the second or third day after your surgery if your health condition is good.
When can I remove white tape that covers the scars?
Keep it until it begins to peel by itself - ideally until the first postoperative check-up. The tape covers the wound and prevents it from infection.
How long does it take until I need to replace my implants?
It is suggested to replace the implants at the recommendation of the manufacturer or the physician, preventively it's about 15 years after the surgery.
How long after breastfeeding can I undertake an augmentation?
You can undertake the surgery one year after you stop breastfeeding. During and after breastfeeding breast size and shape change.
One breast hurts and pushes more than the other, is it normal?
We recommend contacting your doctor to avoid possible complications.
I would like to buy one more compress bra, how much does it cost?
You can buy a compression bra for 45 EUR or 40 GBP. The size and colour will be set after the surgery as you are leaving the clinic.
Can I go to a solarium if I cover my nipples and scars?
It is possible after 6 weeks from the surgery. Covering nipples and scars is a must.
How long after the surgery can I have a massage?
We recommend to wait at least 6-8 weeks after surgery.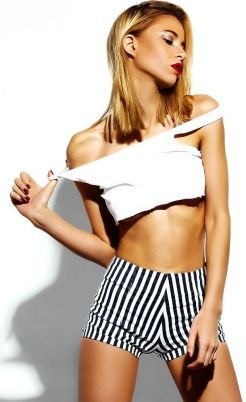 When can I drive again?
Do not drive a motor vehicle if you are using painkillers or if you do not have the full range of movement in your arms. We recommend starting to drive about 2-3 weeks after surgery.
When can I start exercising?
Avoid more challenging physical activities for 4 weeks. Do not lift heavy objects (over 2kg/4.4 pounds) for 2-3 weeks and avoid contact sports for 6-8 weeks.
When can I start drinking alcohol?
Because your body is more likely to hold liquids, do not consume any alcohol for the first 3 weeks after your surgery. After that we recommend drinking very little because alcohol slows healing. We also recommend that you reduce smoking.
Do I need to reschedule the surgery because I have my period?
Consideration should be given to the risk of greater bleeding and complications in the postoperative period. We recommend that you consult it with your doctor.
Why do I need to remove nail polish?
Polished nails are disturbing the monitoring of oxygen saturation during your surgery that is scanned via finger detectors. Usually it's OK to remove the nail polish from just one nail
Is it recommended to bring some special clothing?
Take your pyjamas, bathrobe and slippers. For after surgery, we recommend to bring a buttoned t-shirt or sweater.
Can I wear a supported bra after I have healed?
You can, but not earlier than 3 months after the procedure.
When can I have sex again?
We recommend that you avoid physical contact with your breast for 3-4 weeks.
What happens if I get pregnant after a surgery?
Implants do not have any negative effects on pregnancy or lactation.
Do you recommend using some special dietary supplements to prepare for the surgery?
Just follow balanced diet and drinking regime.
Can any supplements speed up healing process after the surgery?
It is enough to keep a balanced diet and drinking regime. We recommend taking Wobenzym after the operation, which accelerates healing and is suitable for reducing swelling and hematoma.
Do Breast Implants affect breastfeeding?
Breast implants have no effect on breast feeding.
Do I need any check-ups after the surgery? If so then when?
The first check-up will take place before being released from the clinic. The second one is about 14 days after the procedure, if your health condition is good. If necessary, contact the clinic immediately. After that we also recommend a check-up a half a year or a year after the surgery, when the final results are already visible.
Why do I need an ultrasound /mammograph examination prior the surgery?
This is primarily for your safety. We want to rule out the possibility of a tumour or other breast issues. Also, the mammary gland and adipose tissue ratio is detected.
Is there any age limit for the operation?
You can undergo surgery from the age of 18.